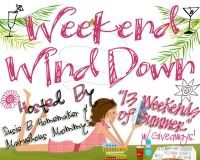 Each week you are invited to answer the question and link up.I have been meaning to do this for weeks and now I am stopping everything else to finish this post!
With Labor Day weekend just passing, what is your favorite holiday and why?
I will forever and always love
Halloween
.
I live for Halloween to get here every year.I started on costumes in April this year to find the just right ones and I am dragging out my decorations tomorrow.Of course those of you that read my blog know this ,especially after my
Halloween Havoc Starting Soon
post.
This is the reason behind my Halloween Havoc event here at 2 Monsters and A Princess!!
Have A Great Day