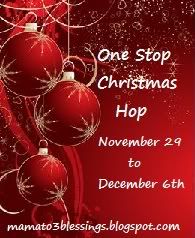 I don't usually participate in the blog giveaway hops because I never seem to have time.This one,however,fit right in my schedule so I decided to join in too!
The event will run for 1 full week from November 29th through December 6th.Each blog participating will host a giveaway worth at least $25 and all giveaways will be using Rafflecopter for easy entry! Simply follow the linky,hop around and enter to win!
I hope to see you all there!