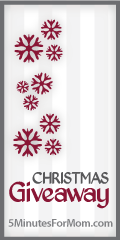 5 Minutes For Mom is having a great christmas blowout.
These girls are so faublous to be hosting such a huge event with over 30 different giveaways in the next month.This is a great place to enter for some wonderful gifts for yourself or someone else on your list.
AND-
while your are there LOOK what else they are doing.They are hosting UNDER THE TREE where readers nimonate a family in need and families will be chosen to receive help then the companies are providing gifts for them.Stop by there and check this out too!
http://www.5minutesformom.com/10606/christmas-giveaway-2009/